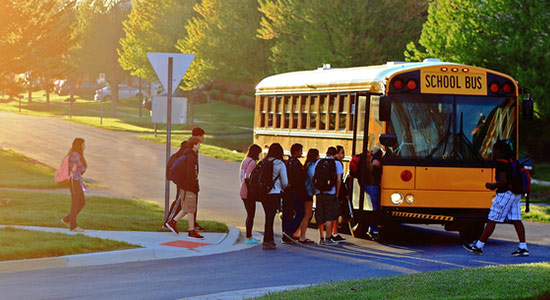 The Lancaster ISD Transportation Department is dedicated to providing safe and reliable transportation to all eligible students (K-12) each day for home-to-school and for school-to-home. Students must reside two or more miles from their home campus in order to be eligible for bus service.
Our transportation professionals strive to provide excellent customer service while maintaining a safe and clean school bus environment.
All bus stop times are estimates only and could be affected by weather, traffic and various conditions. We ask that students arrive at their designated bus stop at least 10 minutes prior to the estimated pick up time to ensure they are at the stop when the bus arrives.
Students are required to wear a mask while on the bus.
How to Find Your Bus Route Information:
Use the link below to search for bus route information online:
http://www.infofinderi.com/ifi/?cid=LI4IYBDOCSD
Input in your exact address.

Select your student's grade level – PK students are not eligible for transportation.

Click search.

If you are eligible for transportation, all possible stops for your address will be listed and shown on the map.
If there are multiple stops listed, pick one location for pick up and drop off for the school year.
Please have students at the designated stop at least 10 minutes prior to pick-up time.
After school drop off location is the same as the morning pick up location.
For ESL Routes, contact the Transportation Department at transportation@lancasterisd.org or 972-218-1562.
For SPED Routes, contact the Special Education Department at 972-218-1640.
For School Closing Information:
Please check with one of the following sources of information to obtain accurate information:
District web site at lancasterisd.org where a message will scroll across the top indicating the district's status.

District-managed social media accounts: Twitter and Facebook.

Phone calls, e-mails and in some cases, text messages, sent via district notification service to current, on-file contact information for parents and staff.

Major television stations including KDFW - Channel 4; KXAS - Channel 5; WFAA- Channel 8; KTVT - Channel 11.

Major radio stations including KKDA (104.5 FM); KLTY (94.9 FM); and WBAP (820 AM).

By approximately 6 AM, at the district's main number, (972) 218-1400, a voice mail recording will announce whether the school is closed or delayed for the district.

By 6 AM, a voice mail recording at each school will announce if the school is closed.
Our offices are located at 3001 West Wintergreen Road, Lancaster, TX 75134